DaisyDisk​
Real-time Monitoring: No | System Optimizer: No | Malware Remover: No | System Requirements: Mac OS X 10.6 or newer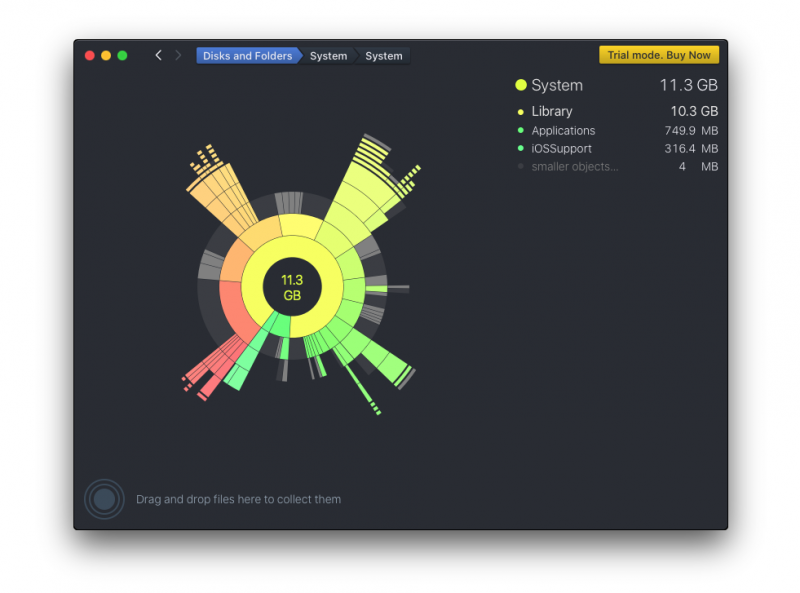 Overview:
DaisyDisk is a simple disk cleaner that lets you visualize your files and folders as an interactive map, allowing you to quickly locate all space-wasters. You can even preview files directly from the app and delete them with a simple click—no need to switch to Finder.
Unlike many other Mac cleaning software solutions listed in this article, DaisyDisk is a one-trick pony that does one thing and one thing only. While definitely a downside if your goal is to perform in-depth Mac cleaning to achieve the best performance possible, the lack of features and options does make DaisyDisk very easy to use.
Key features:
Fast scanning – If you have a modern SSD, then you can expect DaisyDisk to scan it in just a few seconds.
Usage visualization – DaisyDisk creates visually stunning interactive maps, clearly showing how your storage device is being utilized.
Pros:
Visually appealing
Fast scan process
Low price
Cons:
Doesn't support automatic cleanup
Does just one thing
Pricing plans:
Free trial – some functionality is locked
Full version – $9.99
Free Download
How to Choose Mac Cleaner That Really Works?
The last thing you want is to choose a Mac cleaner that works so poorly that your Mac ends up being even slower than it was before. What's even worse, some Mac cleaners are infected with dangerous malware that can cause your Mac to display highly inappropriate ads, run cryptomining software, or expose your personal information to strangers with malicious intentions.
Here's what you need to pay attention to when choosing Mac cleaning software:
Developer: You should always check who's behind the Mac cleaner you're about to download. Unfortunately, not all Mac cleaners are developed by people who have your best intentions at heart. By choosing a Mac cleaner from a trusted developer, you can avoid all kinds of performance and customer support issues.
Reviews: It's one thing to promise things like one-click junk removal or cache optimization, and it's something else to actually deliver on these promises. That's why it's a good idea to check user reviews and find out what real users have to say.
Updates: The best Mac cleaner software receives updates on a regular basis to fix known issues, introduce new functionality, and maintain compatibility with macOS. Updates are especially important when it comes to paid Mac cleaners because you shouldn't have to put up with bugs that prevent you from enjoying the app properly.
Performance: There are many different Mac cleaning software apps, and they all offer different sets of features and functionality. Some focus predominantly on freeing up storage space, while others lean more toward system optimization. Regardless of which kind of Mac cleaning software you choose, make sure to verify that it actually performs well and does what it promises to do.
Price: Not all free Mac cleaners are 100% free. Some are only free to try, requiring you to purchase a paid license to unlock unlimited cleaning. Moreover, some paid Mac cleaners require you to purchase a monthly or annual subscription, which can end up costing you quite a lot of money in the long run.
Of course, you can always simply pick one of the top 15 free Mac cleaner software apps featured above and rest assured, knowing that it can get the job done without exposing your Mac to malware.
Reasons Behind My Ratings
Effectiveness: 5/5
CleanMyMac X's scans were surprisingly fast, and I was quickly able to free up almost 14GB. The app was stable throughout my evaluation, and I encountered no crashes or hangups.
Price: 4/5
At $90 for one Mac, CleanMyMac X is significantly more expensive than its competitors. However, in my opinion, it offers enough value to justify the higher price. You don't need to purchase it outright: a subscription of $40/year may soften the financial blow in the short-term, and it's also included in a $9.99/month Setapp subscription along with a wide range of other apps.
Ease of Use: 5/5
This is the easiest cleanup utility I've used on any platform. The interface is attractive and well organized, tasks are logically grouped together, and decisions for the user are kept to a minimum. CleanMyMac X almost makes cleaning fun.
Support: 5/5
The support page on the MacPaw website provides a range of resources for CleanMyMac X including an FAQ and knowledge base. The page also allows you to manage your license or subscription, suggest features, and contact support via a web form. The app's Help menu also includes links to the help page, contacting support and providing feedback.
CCleaner​
Real-time Monitoring: Yes | System Optimizer: No | Malware Remover: No | System Requirements: Officially supports Mac OS X 10.8 to 10.14 Mojave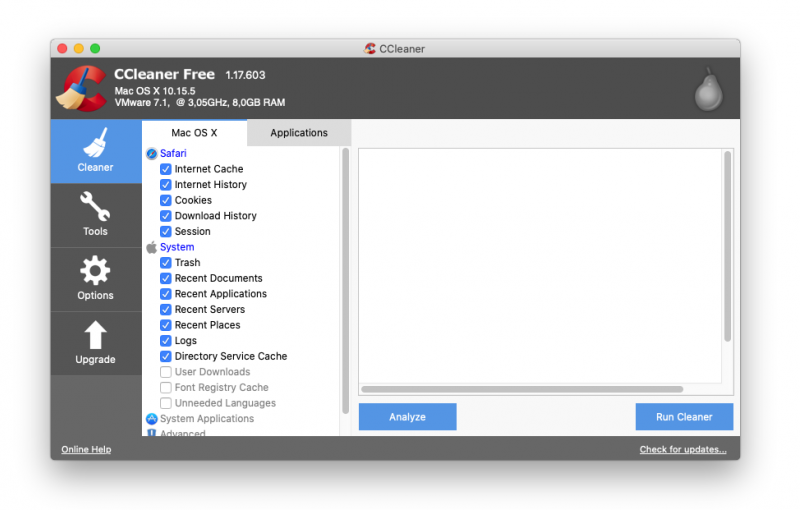 Overview:
CCleaner is a popular storage cleaner capable of instantly deleting your internet cache, history, and cookies, the Trash folder, mentions of recently opened documents, and unnecessary files leftover by all kinds of third-party apps.
Even though CCleaner hasn't been updated in a while and doesn't officially support the latest version of macOS, it still runs fine and does exactly what it promises to do while being completely free. That said, a paid version of CCleaner is available, and it adds real-time monitoring, automatic updates, and premium support.
Key features:
Customizable – Ccleaner allows you to specify which junk files you want to clean up and which you want to leave behind.
Browsing cleanup – You can use CCleaner to reliably erase your browsing history and all kinds of files left on your Mac by websites.
Pros:
Unlimited cleanup
Effective cleanup
Easy to use
Cons:
Pricing plans:
CCleaner – completely free
CCleaner Professional – $19.95
Деинсталлятор: полное удаление приложений
Пожалуй, это наиболее часто используемый мною модуль
Поскольку я постоянно устанавливаю и пробую новые приложения, мне важно, чтобы после их удаления не оставалось лишних файлов и мусора в автозагрузке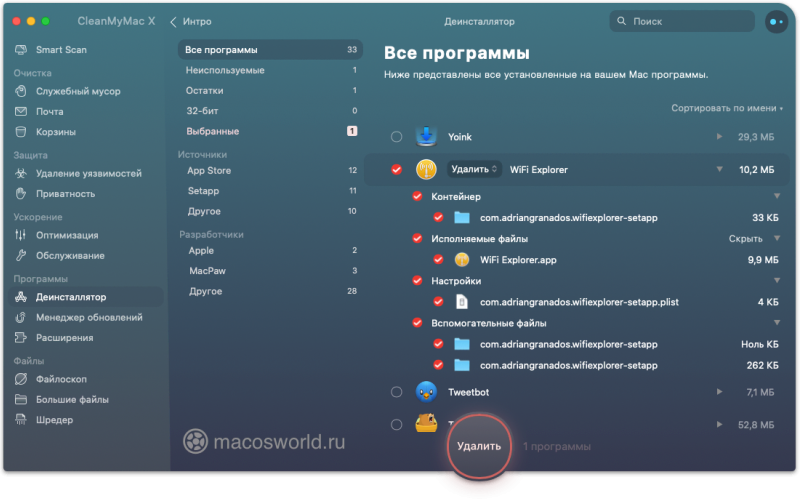 Деинсталлятор CleanMyMac полностью удаляет приложения, включая все вспомогательные файлы 
CleanMyMac удалит программы полностью: не только исполнительный файл, но и остальные «хвостики». Также при помощи  этого модуля можно сбросить любую программу до начальных настроек без её удаления. Я часто пользуюсь этой возможностью при разработке своих приложений KeyKey и Focusito.
Если вы в этом разделе впервые, то сразу загляните во вкладку «Неиспользуемые». Здесь собраны программы, которые вы давно не запускали, скорее всего их можно удалить.
Обслуживание
Это новый и очень интересный инструмент способный выполнить целый ряд задач:
Выполнить сценарии обслуживания. Запускает набор сценариев необходимых для обновления системных журналов, удаления временных объектов и выполнения оптимизации системы.
Обнулить кэш DNS. Может помочь при медленной работе браузера, либо невозможности открыть некоторые сайты.
Ускорить Mail. Процедура полностью безопасна и заключается в перестроении базы Mail для повышения производительности.
Пересоздать базы данных служб запуска. Используется если иконки некоторых файлов ведут на совсем другие объекты.
Переиндексировать Spotlight. Полностью переиндексирует поисковую систему для повышения стабильности и производительности. Процесс долгий.
Исправить права доступа. Исправляет нарушенные права доступа. Полезно при неправильной работе программ, либо при невозможности удалить (переместить) файлы.
Проверить загрузочный диск. Проверяет файловую систему накопителя. В случае обнаружения проблем выдает рекомендации по устранению. Интересно кто справляется с данной задачей лучше, CMM 3 или штатная Дисковая утилита.
Оценки
Эффективность: 5/5
CleanMyMac X сканирует систему на удивление быстро и освобождает достаточно много памяти. Программа работает стабильно и не вылетает.
Цена: 4/5
Да, программа CleanMyMac X намного дороже альтернативных, но она того стоит. Она совмещает в себе множество инструментов, которые обычно можно получить только в нескольких разных программах.
Удобство: 5/5
Пользоваться программой – сплошное удовольствие. Интерфейс выглядит очень красиво и понятно. Все элементы расположены логично. С CleanMyMac X уборка станет приятным занятием.
Поддержка: 5/5
На странице поддержки MacPaw есть множество полезных источников для программы CleanMyMac X, а также ответы на часто задаваемые вопросы. Здесь же можно управлять своей лицензией или подпиской, предлагать свои функции и связываться со службой поддержки. Также есть возможность оставить отзыв.
Conclusion: Is CleanMyMac X Worth It?
CleanMyMac X offers a variety of easy-to-use tools that will quickly free up space on your hard drive or SSD, make your Mac run more quickly, and help keep it private and secure. Using them, I was able to free up almost 18GB on my MacBook Air.
But that functionality comes at a price, and that price is higher than its competitors. Several alternative apps offer similar functionality at a cheaper price, or you can use a collection of free utilities to cover the same features. But that's a lot more work.
Is CleanMyMac worth it? I believe it is. Cleaning is always worthwhile, but never fun. CleanMyMac X offers the most pleasant, friction-free interface out there, and covers all the cleaning jobs you need, meaning you're more likely to actually use it. As a result, you'll keep your Mac running in peak condition, making you happier and more productive.
CleanMyMac вполне может сломать другой софт или macOS Подобные приложения работают достаточно просто. Разработчики закладывают в алгоритм работы удаление папок с кэшем и временными данными для всех распространенных приложений.
CleanMyMac проверяет эти папки и удаляет все, что разработчики считают ненужным.
После очередного апдейта программа может начать хранить кэш в другой папке или называть сами файлы по-другому. Пока разработчики CleanMyMac не выпустят обновление, утилита не найдет новый мусор.
Это вам не Windows, где подобные «клинеры» могут сделать снимок системного реестра и потом четко понять где наследило то или иное приложение. Если какая-нибудь программа глубоко интегрируется в macOS, удаление хвостов за ней может негативно сказаться на работоспособности компьютера.
Тут или устраивать агрессивную чистку с риском для ОС, либо сознательно оставлять хвосты и мусор, чтобы не навредить.
В практике использования CleanMyMac были как первые, так и вторые случаи.
Стороннее приложение после этого можно переустановить, а сломанные системные программы лечатся только переустановкой macOS.
Parallels Toolbox​
Real-time Monitoring: No | System Optimizer: Yes | Malware Remover: No | System Requirements: macOS Sierra 10.12 or later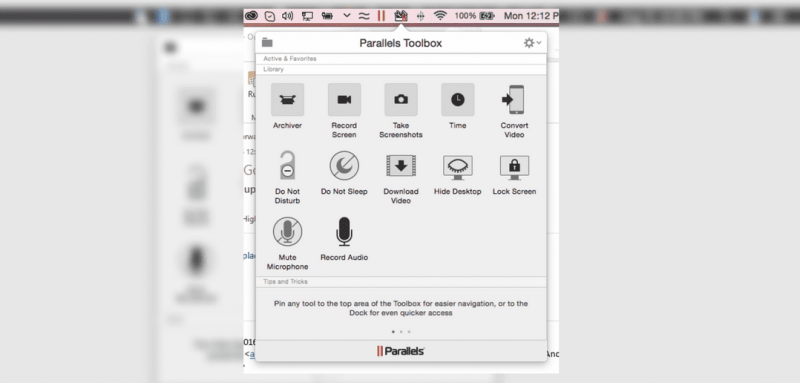 Overview:
Parallels Toolbox isn't a traditional cleaner app. Instead, it's a comprehensive selection of tools covering everything from system optimization to file archiving and more. Just read the names of some of the tools included in Parallels Toolbox, and you'll instantly understand what we're talking about: Clean Drive, Date Countdown, Free Memory, Record Window, Eject Volumes, Make GIF, Hide Menu Items.
Unfortunately, some really useful tools, such as the ability to make the built-in camera inaccessible to apps for security and privacy reasons, are available only in the Windows version of the software. Still, the Mac version offers.
Key features:
Airplane Mode – Quickly and easily turn off all wireless communication, including Wi-Fi and Bluetooth.
Alarm – Set an alarm to notify you when your tea is ready or when it's time to take a break.
Archive – Compress any files with a single click to easily share them with others.
Pros:
Easy to access
Goes way beyond system cleanup
Cons:
Pricing plans:
Free trial – free for 7 days
Full version – $19.99 per year
Free Download
Способ 2. как вручную деинсталлировать приложения и связанные с ними файлы
1. Перетащите приложение в «Корзину».
Как правило, приложения находятся в папке «Программы», в противном случае воспользуйтесь поиском Spotlight или Finder для того, чтобы найти приложение. Выберите программу, которую нужно удалить, и переместите ее в «Корзину». В нашем примере это приложение WiFi Scanner.
На первый взгляд кажется, что вы удаляете только один файл, но в действительности их несколько. Для того чтобы просмотреть файлы, щелкните правой кнопкой мыши на значке приложения и выберите «Показать содержимое пакета».
В зависимости от программы может потребоваться ввести пароль администратора, чтобы полностью удалить ее из «Корзины». Теперь либо кликните правой кнопкой мыши по иконке «Корзины» и выберите опцию «Очистить Корзину», либо откройте «Корзину», нажмите на «Очистить» в правом верхнем углу, а затем подтвердите действие.
Хотя основное приложение уже удалено, на Мас остались связанные с ним файлы, такие как кэш, фреймворк и plist-файлы. Избавиться от них можно с помощью папки «Библиотека».
2. Удалите связанные с приложением файлы через папку «Библиотека».
Все ресурсы приложений (файлы, необходимые для их корректной работы) находятся в папке «Библиотека» на жестком диске. К сожалению, в версиях, выпущенных после macOS X 10.7, Apple решила скрыть эту папку, поэтому, прежде чем приступать к каким-либо действиям, потребуется ее разблокировать.
ЧИТАТЬ ДАЛЕЕ: 50 лучших праймеров для лица популярных производителей
К папке «Библиотека» можно перейти также воспользовавшись меню «Переход» → «Переход к папке» в строке меню приложения Finder. После чего в появившееся поле необходимо ввести строку ~/Библиотеки/ и нажать ОК.
В папке «Библиотека» вы увидите ряд подпапок, несколько из них будут содержать файлы, связанные с удаленным приложением. Откройте каждую подпапку и найдите файлы, связанные с программой (не исключено, что вам потребуется выполнить этот процесс в корневой папке «Библиотека» на Macintosh HD).
Внимание! Уничтожение не связанных с вашим приложением файлов может нарушить функциональность других приложений (замедлить их работу, стереть информацию и т.д.), поэтому удаляйте файлы с осторожностью. Если папок слишком много, потребуется некоторое время для того, чтобы найти нужные. Для экономии вашего времени приводим список папок, которые могут содержать связанные с удаленными приложениями файлы:
Для экономии вашего времени приводим список папок, которые могут содержать связанные с удаленными приложениями файлы:
Если папок слишком много, потребуется некоторое время для того, чтобы найти нужные. Для экономии вашего времени приводим список папок, которые могут содержать связанные с удаленными приложениями файлы:
Application Support
Caches
Containers
Frameworks
Logs
Preferences
Saved Application State
WebKit
Ниже продемонстрированы файлы, связанные с приложением WiFi Scanner, которые остались на Мас после его удаления.
Как уже говорилось выше, проверка каждой папки может занять немало времени, но, к счастью, существует более простой метод.
3. Используйте функцию поиска в папке «Библиотека».
Вместо того, чтобы вручную просматривать каждую папку, введите название приложения в строку поиска, которая располагается вверху справа в Finder. На экране отобразятся файлы, содержащие название данного приложения, если рядом с опцией «Поиск» активна опция «Библиотека».
Описанный метод можно использовать и для поиска файлов с названием приложения на Mac (но не в «Библиотеке»). В данном случае нужно выбрать опцию «Этот Мас» рядом с «Поиском».
Если вы не совсем разбираетесь, какие файлы нужно удалять, а какие трогать не стоит, лучше использовать специально предназначенные для такой цели программы, тот же CleanMyMac, например. В противном случае вы рискуете нарушить работу других приложений.
ПО ТЕМЕ: Как удалять файлы на macOS мимо корзины.
Why Should You Trust Me?
Hi, my name is JP, and I'm the founder of SoftwareHow. Like you, I'm just a normal Mac user who holds a mid-2012 MacBook Pro – still, the machine works fine! I managed to speed it up after replacing the internal hard drive with a new Crucial MX300, an SSD I highly recommend for those of you who use an old Mac.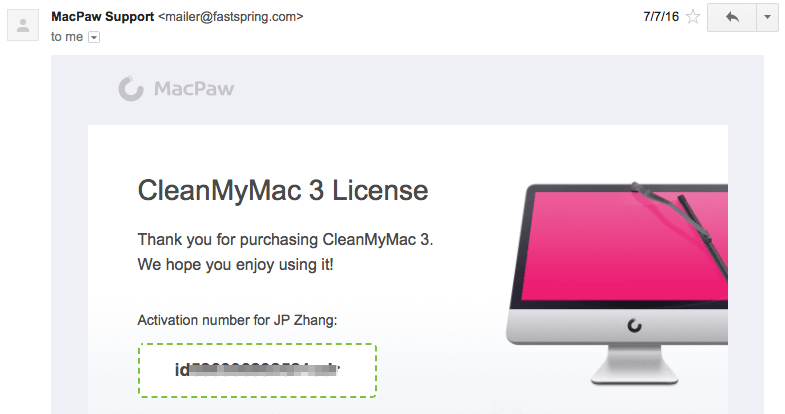 The goal of writing this kind of review is to inform and share what I like and dislike about an app. I also suggest you check out the "Fair Disclosure" section below Unlike most other review sites which tend to only share positive things about a product, SoftwareHow reviews are different in many aspects. I believe users have the right to know what's NOT working with a product, regardless it's hardware or software.
The content in the quick summary box above serves as a short version of my opinions about CleanMyMac 3. You can also navigate through the table of contents to find more information.
Clean Me​
Real-time Monitoring: No | System Optimizer: No | Malware Remover: No | System Requirements: All recent versions of macOS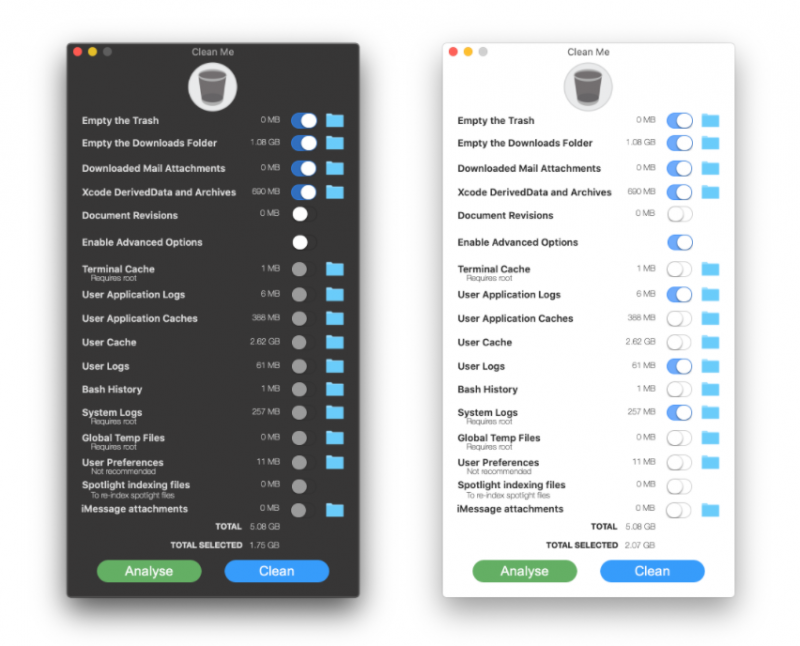 Overview:
Clean Me is an excellent open-source disk cleaner that's as effective as it is simple. The app presents you with a list of toggles, each of which lets you clean a specific folder, such as the Trash folder or your User Cache. You simply need to make your selection and click Analyze to determine the amount of storage space that can be freed up. Then, you can click Clean to delete everything in one go. The only downside is that you can't install Clean Me from the Mac App Store. Instead, you need to use Homebrew, an open-source package manager for macOS, or compile the software yourself, which takes some time and skills.
Key features:
Secure – Clean Me doesn't store your admin password in any way, and it also doesn't request an internet connection.
Open-source – Because Clean Me is open source, you can study its source code and verify that it does what it promises to do.
Pros:
Straightforward user interface
Two-step cleanup
Open-source
Completely free
Cons:
Doesn't offer all that many cleanup options
The developer doesn't provide user support
Pricing plans:
Free Download
MacClean​
Real-time Monitoring: No | System Optimizer: Yes | Malware Remover: Yes | System Requirements: macOS Big Sur to Mac OS X 10.9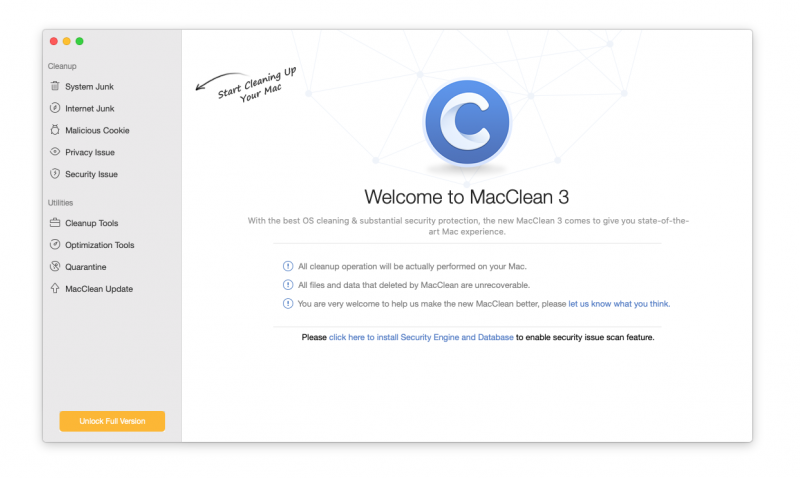 Overview:
MacClean is easy-to-use Mac cleaning software that includes all essential cleanup features plus a robust malware scanner capable of finding and removing malicious software from your Mac. All features are accessible with a simple click and require just one additional action to run.
The internet cleanup module stands out with its ability to protect your privacy by intelligently erasing cookies, cashes, sessions, history, saved passwords, and other website data across all major web browsers. Other useful utilities that ship with MacClean include an app uninstaller, duplicate finder, file eraser, and language file cleaner, among others.
Key features:
One-click cleanup – With a single click, you can restore your Mac to a state closely resembling a brand-new computer.
Malware scanner – While MacClean's malware scanner doesn't offer real-time scanning, it can reliably detect all major threats and get rid of them before they cause any harm.
Pros:
Scans don't take much time to complete
Built-in virus scanner
Targeted cookie cleanup
Cons:
Pricing plans:
Free trial – evaluation only
Personal license – $19.99 per year or $29.99 for a lifetime
Family license – $39.99 for lifetime
Free Download
Updater
(not available from the App Store)
A new version of CleanMyMac X appears at least once a month and brings cool features and useful improvements. We want to share them with you as soon as possible, and that's what Updater does successfully. It downloads and installs CleanMyMac updates right after they're released. 
How it works
Updater is a transparent process that wakes up every 6 hours to check for updates. If there's something new, the download starts silently. Otherwise, Updater terminates.
How to disable Updater?
Open CleanMyMac X and choose CleanMyMac X > Preferences in the menu bar.
In the Updates section of the General tab, deselect the "Automatically keep CleanMyMac up to date" checkbox.*
* In Setapp, the updates for all applications (including CleanMyMac) are handled in one place — Setapp's Preferences dialog. Read more in this article.
For the App Store version of CleanMyMac X, you can manage updates using the App Store Preferences (here's the help article from Apple).
App Cleaner & Uninstaller​
Real-time Monitoring: No | System Optimizer: No | Malware Remover: No | System Requirements: macOS 10.10 or later
Overview:
As its name suggests, App Cleaner & Uninstaller is a cleaner tool that focuses on uninstalling unwanted apps and extensions without leaving behind useless junk files. It can reliably uninstall more than 1,000 apps and get rid of associated caches, application support files, and preference files. If you're having trouble with apps running automatically on Mac startup, then you can use App Cleaner & Uninstaller to disable their launch agents and system daemons.
App Cleaner & Uninstaller has been translated into multiple languages, including Spanish, German, French, Japanese, Chinese, Russian, and, of course, English. The free trial can be used without any major limitations for 7 days, and you can then purchase the full version for $19.90.
Key features:
Reset apps – You can use App Cleaner & Uninstaller to selectively delete service files and launch any application like for the first time.
Remove extensions and apps – Completely remove any extension or app without leaving behind any files.
Pros:
Supports multiple languages
One-click cleanup
Cons:
Pricing plans:
Free trial – free for 7 days
Full version – $19.90
Free Download
Reasons Behind My Ratings
Effectiveness: 4/5
While I'm impressed by CleanMyMac's Smart Cleanup and deep cleaning utilities, I have to admit that not every Mac is created equal. The benefits you can gain from using the app will vary. The core value of the app is that it removes unnecessary files and apps from a Mac, making it run cleaner and faster (the second point originates from my gauge of MacPaw's marketing message).
My arguments mainly include two parts. First off, not every Mac is that "dirty," especially if your Mac is brand new. Older Macs tend to get used more, which means more junk files. Once you use CleanMyMac 3 to remove those junk files thoroughly, you'll get a performance boost, but it won't be dramatic. There are many reasons why a Mac can run slow. Sometimes a hardware upgrade is the best solution to improve overall performance.
Secondly, macOS Sierra's deeper iCloud integration will likely make your Mac hard drive less crowded. If you're like me, you watched the Apple WWDC16 back in June. They announced at that event that one of the new features in OS Sierra is that Mac will make room for new files by keeping older ones in the cloud. More specifically, it will make all of the files stored on the desktop and documents folder of your Mac available through iCloud.com. Remember the colorful storage bar Craig Federighi showed to us: all of a sudden, 130GB of new free space was generated.
Price: 4/5
CleanMyMac is not free, even though it offers a demo that is free to download and will clean up to 500MB of data. The app includes smaller utilities that achieve a number of different tasks. The truth is that nearly all of them can be replaced by either Apple's default utility or a free third-party app. That said, $39.95 is not killing it considering the convenience this all-in-one app brings to the table in an incredibly easy-to-use manner. Also, you can always reach out to their customer support for questions. In a nutshell, the app saves you time and energy by streamlining how you maintain your Mac.
Ease of Use: 5/5
I'm not a designer, so I can't evaluate the pros and cons of the app's UI/UX like a pro. But as someone who has used MacOS for over six years, and has tried hundreds of apps, I confidently say CleanMyMac is one of the finest-designed apps I've ever used. Its sleek interface, high-quality graphics, clear call-to-actions, text instructions and documentation all make using the app a breeze.
Support: 4.5/5
Phone calls — +1 (877) 562-2729, toll-free. Their support is very responsive and professional. The rep I spoke to answered all my questions, I'm quite happy about my experience.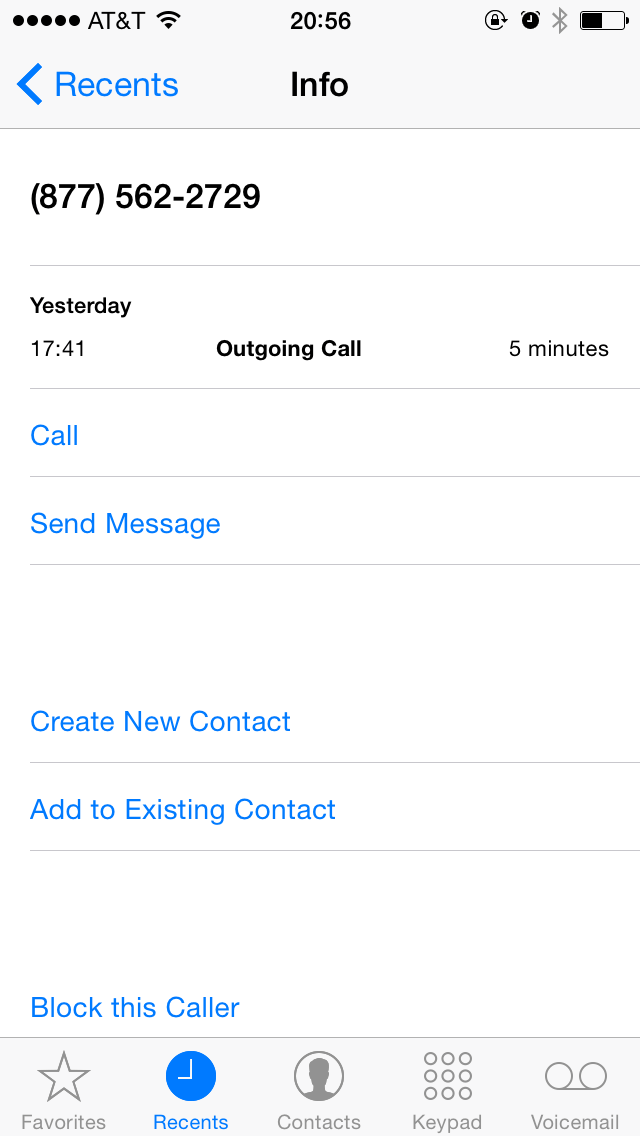 Live chat — available during working hours in the United States. Update: this option is no longer available.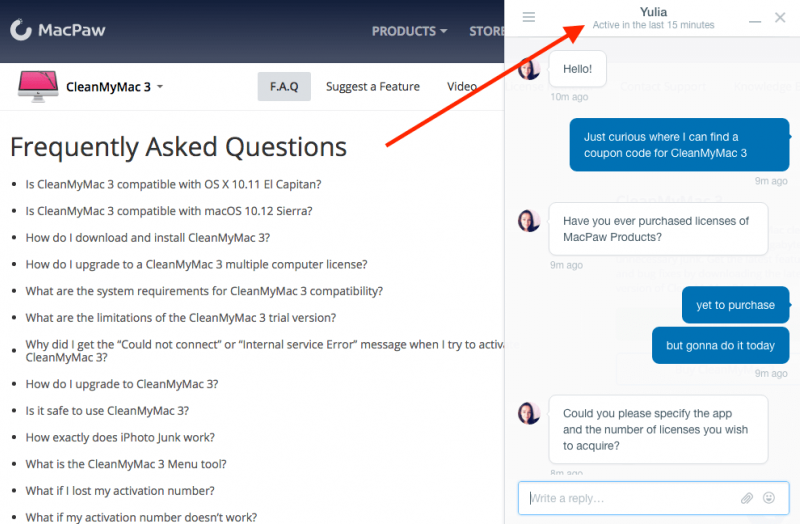 Conclusion
Is CleanMyMac 3 worth it? In my opinion, the app is perhaps the best Mac cleaning app, and it does more than just cleaning. However, CleanMyMac isn't for everyone. If you are new to Mac OS or don't want to spend the time to learn and try different apps to maintain your Mac, CleanMyMac is a great choice. For power users who are comfortable with Mac computers, CleanMyMac won't offer that much value.
A clean Mac is better than a dirty one. While the app can help you free up a considerable amount of disk space, don't forget to back up those files that you can't afford to lose — in particular, the photos and videos you shot with families and friends. Mac hard drives will die one day, maybe sooner than you thought. This just happened to my 2012 MacBook Pro. The main Hitachi hard disk drive (750GB) died, and I lost a ton of precious photographs. Lesson learned! Now my MacBook is with a new Crucial MX300 SSD. Anyway, the point is that protecting your files is more important than deleting unneeded ones.
Fair Disclosure
This review contains affiliate links, which means if you visit MacPaw's website via any of these links and purchase a license, I'll be paid a percentage of commission. But that comes at no additional cost to you. MacPaw offers a 30-day money back guarantee. If you decide to cancel your order, you'll get a full refund immediately and I won't get paid. If you decide to buy it, I want to say thank you. Your support will help me keep up this blog and help more people to tackle tech challenges.
I was contacted by the MacPaw marketing team before I wrote this review, and they offered me a free activation code for evaluation purposes. I declined. Two reasons: first of all, I was concerned about license accessibility. I suspected that the license they sent to me might be more powerful than the common licenses they offer to customers. Thus, my review would fail to represent from a general user's perspective. Secondly, it's my own personal principle not to review any commercial products for the sake of review itself. I firmly believe if a piece of software does provide value, I don't mind paying for it. That's what I did for CleanMyMac 3 and got a single license on my own budget.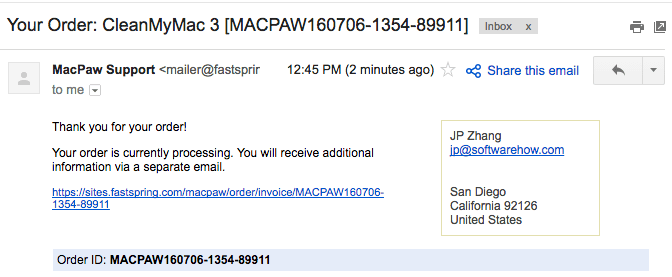 I'm here to disclaim that this review is primarily based on my own testing of the app on my MacBook Pro, and information from MacPaw's website and user feedback, which is available on various Apple Mac forums and communities. As such, please note the opinions in this article are my own and by no means do I intend or claim to be a software-testing expert. I highly encourage you to do your own due diligence before you try or buy the app.
Your Feedback
Did you find this article helpful? How do you like CleanMyMac? Do you have any other good alternatives to the app? I'd like to hear from you. Please leave a comment below.
P.S. If you decide to download or buy CleanMyMac, I'd appreciate it if you can visit the link to do so. That way, I'll get a commission (see disclosure above). In doing so, you're helping me to create more useful tech tips and unbiased reviews in this blog. Thanks!
Omni Remover 3​
Real-time Monitoring: No | System Optimizer: Yes | Malware Remover: No | System Requirements: macOS 10.12 or later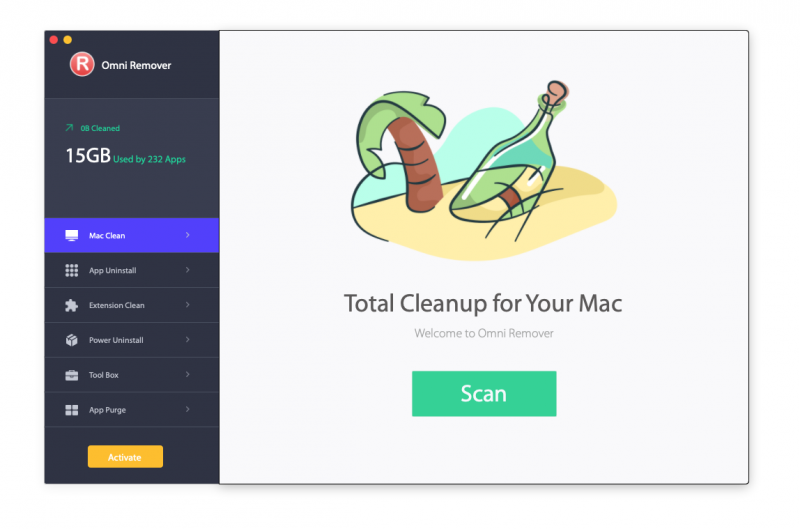 Overview:
Omni Remover 3 is one of the best Mac uninstallers that you can download today. It can reliably uninstall even stubborn and malicious apps without leaving behind junk files. All you need to do is select the app you want to uninstall, click the Scan button, and wait a short while for the app to find all files associated with the app. From there, you can click delete and wave them goodbye.
In addition to uninstalling unwanted apps, Omni Remover 3 can help you control your Mac extensions and free up valuable storage space by deleting accumulated cache junk, redundant language files, broken logins, and internet browsing junk.
Key features:
Sketch Cache Cleaner – can clear revision history for all Sketch documents.
Xcode Clean – lets you remove Xcode cache files to fix issues with crashing.
Pros:
Removes apps without leaving behind junk
Lets you control extensions from one place
Many extra cleanup tools
Cons:
Often crashes
Expensive for what it is
Pricing plans:
Free trial – only lets you evaluate its features
Single license – $29.99
Family license – $39.99
Business license – $99.99
Free Download
Мониторинг Но крайне не эффективно держать программу для чистки Мака постоянно открытой лишь ради вот такой краткой системной статистики, поэтому разработчики сделали доступным это окошко даже при закрытой утилите. Нужно лишь нажать на соответствующий значок в меню баре. И завершит обзор модуль под не знаю каким названием :), но точно знаю что он, как и «Мониторинг», всегда работает в фоновом режиме и дает о себе знать в следующих случаях: — Свободная память на исходе — Требуется заменить батарею — Перегрев накопителя — Жесткий диск может выйти из строя Многие готовы дорого заплатить за то, чтобы знать заранее, что их жесткий вот-вот накроется. А ребята из MacPaw просят за это, и многое другое, ни много ни мало 39,95$ (стоимость CleanMyMac 3, тем кто перекочует со 2 версии программы скидка на обновление в 50%).