2018
Beatport Announces 2018 Season of Beats In School (11/12/2018)
Beatport Announces Launch of New Podcast Series (10/10/2018) 
Heiko Hoffmann Joins Beatport as Director of Artist & Label Relations (09/04/2018) 
Beatport Backs Rising Labels With New Hype Charts (5/23/2018)
Beatport Acquires Leading DJ Streaming & Subscription Service, Pulselocker, Inc. (4/4/2018)
Beatport Announces Launch of Beatport Creative Services (3/21/2018)
Beatport Launches New Melodic House & Techno Genre Category (3/20/2018) 
Beatport Announces Two Promotions on Leadership Team (1/16/2018)
Beatport and Anjunabeats Announce the Next Beats In School Winner (1/10/2018) 
Top Ten Releases
1

Virtual Riot,

LeKtriQue,

Modestep

$16.99

Exclusive

2

IceCreams,

FOOLiE,

TKO,

KC Wray,

Kevin Knapp,

Casmalia,

Emuh,

G-Spec,

ZOF,

Tony H,

Longstocking,

Hanssen,

Baby Weight

$12.99

3

$2.58

4

Cosmic Gate,

Ilan Bluestone,

Tom Staar,

Beatsole,

Markus Schulz,

Paul Arcane,

AVIRA,

Three 'N One,

Estiva,

Alan Fitzpatrick,

Suncatcher,

Exolight,

Roman Messer,

ReOrder,

DRYM,

Armin van Buuren,

i_o,

Above & Beyond,

Gareth Emery,

Annabel,

Robert Miles,

Tinlicker,

Andrew Rayel,

Olivia Sebastianelli,

Paul van Dyk,

Sue McLaren,

Ferry Corsten,

Trance Unity,

Aly & Fila,

Plumb,

Gid Sedgwick,

Orjan Nilsen,

ARTY,

Audien,

Ellee Duke,

Tritonal,

MaRLo,

HALIENE,

Super8 & Tab,

Colin Smith,

Alex M.O.R.P.H.,

Steve Brian,

Michael Jo,

System F,

Omnia,

Enzo,

Christina Novelli,

Ahmed Helmy,

Cari,

Giuseppe Ottaviani,

Rising Star,

Jurgen Vries,

W&W,

ALPHA 9,

Spencer Brown,

Farius,

Nicky Romero,

Ifimay,

Patrik Humann,

Rodg,

Sarah De Warren,

Kyau & Albert,

STANDERWICK,

Larsson (BE),

Michael Mashkov,

Maor Levi,

Roel,

Emma Hewitt,

Stoneblue,

Protoculture,

Diana Miro,

Elysian,

Roxanne Emery,

SMR LVE,

Jordan Tobias,

Alexis Naylor,

Will Atkinson,

Eximinds,

Kevin Shiah,

Stoneface & Terminal,

Alexander Popov,

M11,

Will Church,

Roger Shah,

George Jema,

Jake Reese,

We Are Loud,

Fatum,

Maxim Lany,

K.I.R.A.,

Cubicore,

Chicane,

Marsh,

Leo Wood,

Kasablanca >,

Yotto,

Ben Böhmer,

Diana Leah,

Scorz,

Billy Hendrix,

Luttrell,

Trance Wax,

Spada,

Cristoph,

Mat Zo,

GQ,

Solarstone,

Genix,

Grum,

Binary Finary,

Shadow Child,

Gouryella,

Neal Scarborough,

Blasterjaxx,

Ben Gold,

DIM3NSION,

Dan Stone,

Ronski Speed,

Arctic Moon,

Jessica Lawrence,

Davey Asprey,

Elevven,

Allen Watts,

Ciaran McAuley,

Signum,

Scott Mac,

Philippe El Sisi,

Omar Sherif,

Johan Gielen,

Nikolauss,

Jordan Suckley,

2Sher,

Assaf,

Heatbeat,

Tempo Giusto,

Chris Schweizer,

Maarten De Jong,

Neelix,

Cuebrick,

David Forbes,

Paul Denton,

Sandro Silva,

Dimitri Vegas & Like Mike,

Sonja,

AXMO

$16.99

5

$2.58

6

$2.58

7

$6.45

8

Ray Volpe,

Virus Syndicate

$5.16

9

Sllash & Doppe,

Chus & Ceballos,

Mattei & Omich,

Richard Earnshaw,

Andrew Meller,

Boston Bun,

Dombresky,

KC Lights,

Ben Remember,

Mark Knight,

The Melody Men,

Laura Davie,

Tough Love,

Kimberly Nichole,

Tom Staar,

Jack Back,

Cloonee,

Sharam Jey,

Andruss,

Bob Musella,

Alex Preston,

Shyam P,

Reza,

Johan S,

Gene Farris,

ATFC,

Shiba San,

Kaniun,

PAX,

Marc Ross,

Nic Fanciulli,

Black Circle,

Kid Cut,

Dario D'Attis,

Amine Edge & DANCE,

Martin Badder,

LEFTI,

N2N,

Mat.Joe,

Fish From Japan,

Shadow Child,

Mr. Kavalicious,

Nihil Young,

Paige,

Sara Sommerer,

Sara Marie Sommerer,

Alex Virgo,

Born I,

Late London,

Mendo,

D.Ramirez,

Avante (UK),

Jaded,

Monki,

DJ Rae,

Wise D & Kobe,

Mene,

Mizbee,

Maxinne,

Santez,

GIORG,

Wh0,

ACAY,

Harvey McKay,

Sleepy & Boo,

Rene Amesz,

Karuva,

Dale Howard,

Angelo Ferreri,

Marc Volt,

Gary Beck,

Iglesias,

Karmina Dai,

Imanol Molina,

George Kwali,

Hector Couto,

The Deepshakerz,

Sammy Deuce,

GW Harrison,

Simon Kidzoo,

Milk & Sugar,

Ronnie Spiteri,

Peter Brown,

Noble North,

Elian Dust,

David Keno,

Ekoboy,

Because of Art,

PAGANO,

Kinnerman,

Jerk Boy,

GAWP,

Blvckr,

LO'99,

Port Manteau,

Hypside,

Jay de Lys,

Tomi&Kesh,

My Cat Snoop

$8.99

10

$2.58
View Top 100 Releases
Top Ten Releases
1

Summer J,

Tashie Tones

$2.58

Exclusive

2

Jovonn,

M-High

$7.96

Exclusive

3

$5.97

4

Dom Dolla,

SIDEPIECE,

Purple Disco Machine,

KDA,

Gorgon City,

Eats Everything,

Louie Vega,

Aeroplane,

Riva Starr,

MoBlack,

Armonica,

KiNK,

Kei,

Andrés,

Mele,

Mousse T.,

Natasha Diggs,

Henrik Schwarz,

Honey Dijon,

Saint Evo,

Alaia & Gallo,

Sandy Rivera,

Kaidi Tatham,

Jamie 3:26,

The Martinez Brothers,

Marc E. Bassy,

John Summit,

Boys Noize,

Jake Shears,

Dennis Ferrer,

James Yuill,

Disciples,

Vintage Culture,

Elise LeGrow,

Selace,

David Penn,

Ramona Renea,

Inner City,

Idris Elba,

Steffanie Christi'an,

MD X-Spress,

Floorplan,

Phebe Edwards,

Nikki-O,

Annette Bowen,

Marco Faraone,

Greeko,

Junior Jack,

Glory,

Jocelyn Brown,

Mike Dunn,

Robosonic,

Ferreck Dawn,

GUZ (NL),

Deetron,

Ayaba Poetic,

Dunmore Brothers,

Nick Maurer,

Catz 'n Dogz,

Fela Kuti,

The Vision,

Andreya Triana,

Frank Degrees,

Darius Syrossian,

Supernova,

Horse Meat Disco,

Fi McCluskey,

Mr. V,

Dennis Quin,

Dames Brown,

Emmanuel Jal,

Hyenah,

DJ Tira,

Luke Ntombela,

Ruff N'Stuff,

Jovonn,

Native Tribe,

TTAN,

Jaden Thompson,

Proper Villains,

Cakes Da Killa,

Miguel Migs,

Martin Luther,

Copyright,

Song Williamson,

Bontan,

Snips,

Pauline Taylor,

Hadiya George,

NiCe7,

Mikey V,

Gettoblaster,

Servante,

Oscar G,

The Deepshakerz,

Martin Wilson,

D.C. LaRue,

IDA fLO

$16.99

Exclusive

5

$3.98

6

Mihai Popoviciu,

Covalent (UK),

SEDDON (UK)

$5.16

Exclusive

7

The Incredible Melting Man,

Anthony Granata,

Nimiwari

$5.97

8

Mousse T.,

Qubiko,

Martin Ikin,

Low Steppa,

Sebb Junior,

Earth n Days,

The Deepshakerz,

Illyus & Barrientos,

Alaia & Gallo,

Alle Farben,

Rich Vom Dorf,

Todd Terry All Stars,

Alex Lo Faro,

Michelle Weeks,

Wankelmut,

Anna Leyne,

Hardrive,

Andrey Exx,

D'Vision,

Juliet Sikora,

Mark Knight,

Milk & Sugar,

Lurine Cato,

Marvin Aloys,

DJ Roland Clark,

PvssyCat,

Federico Scavo,

Killed Kassette,

Thornetta Davis,

Claptone,

Ben Duffy,

Robert Owens,

David Penn,

Meines,

Belle Humble,

Lexer,

Lazarusman,

Neil Amarey,

Momo Khani,

Meindel,

StanLei,

Ian Ludvig,

Darksidevinyl,

Mika Olson,

Ucha,

Tube & Berger,

Ghost Loft,

Leo Gira,

Christian Lena,

D'AL SENIO,

Band & Dos,

Samia,

Mauro Longobardo,

Stylo,

Space Motion,

Kiki Botonaki,

Arco

$16.99

Exclusive

9

$3.98

10

Earth n Days,

David Penn,

KPD,

Kevin McKay,

Sebastian Weikum,

Sam Dexter,

Zetbee,

Dennis De Laat,

Milos Pesovic,

Sam Supplier,

Gruuve,

Westend,

Moreno Pezzolato,

Wayne Hernandez,

T.Markakis,

Tasty Lopez,

Alex Gewer,

Phebe Edwards,

Joshwa,

Dillon Nathaniel,

DJ Mark Brickman,

Jess Bays,

Space Motion,

Kashovski,

Craig Knight,

Tom Caruso,

Missy,

Gettoblaster,

Franklyn Watts,

Julian Kid,

DJ Marlon,

KO-BE,

Lee Wilson,

Drive7,

NightFunk,

Elijah & Grundy,

Roog,

Nas Elmes,

Fab Massimo,

Desmond 'DSP' Powell,

Brett Rubin,

Trice Be,

T-Bor,

Jessica Rhodes,

Max Styler,

Brux,

Saad,

Shahin Shantiaei,

DJ Kone & Marc Palacios,

CASSIMM,

Frank'O Moiraghi,

Mallin,

Maxzim,

Maqar,

Lana Domire,

Angelo Ferreri,

Arturo Macchiavelli,

Clementine Douglas,

Menesix,

Trace,

Kieran Fowkes,

Wabe,

J & The Rest,

Ruben Mandolini,

Mateo & Matos,

Liv Campbell,

Travis Emmons

$16.99
View Top 100 Releases
Wanna go further and reach Beatport top 10 chart?
Ok, so this is mayor words because being in the top 10 Beatport chart means the maximum exposure for your music. And we will not recommend anyone to go this further unless we are sure about the tune's potential. It will be mandatory and extra service required within a minimum of 1 month in advance.
DJs feedback on your release. A premiere at any popular account on Soundcloud. Make a study of the expectation for the release, even with all this previous work; we cannot guarantee the success of the track. In the end, they will be the Beatport DJs and producers, who have the last word.
What is the problem of getting your music into the ten leading tunes with the Beatport chart promotion? Imagine that with our Beatport promotion tool, we manage to push it with a BIG PROMO and go it into the best 10, let's say between 5 to 10. A huge number of people will notice your presence because when you navigate any Beatport genre, the first thing you see is the ten best hits of the moment.
Meaning that if they see your record coming into the leading ten and the track is not supported by the primary audience (here the amounts of sales per day will need to be higher to maintain a position or climb in the charts), the track will go down pretty fast. And this situation is not healthy for the releases ranked so high on Beatport charts, it can be reasonable in the 100 charts, but not in the top 10 due to the release's exposure.
So, that said, we can talk about these promotional services, but this promo we will only deliver with a previous study of your music releases.
Beatport Promotion is Important
Beatport is a music store, aswel a streaming platform for a very specific music niche. Being this the underground electronic dance music, it is specialised in this and that is the reason why is the market leader. Techno, Tech House, Deep House are some of the main genres. Underground electronic music code is clearly the clubbing leading trend where you can find djs and producers such as Deadmau5, Marco Carola or Marshmello. The recognition of the EDM is clear and this is the reason why Beatport Promotion is clearly necesarily to grow and boost your dj / producer artist career or for your label.
As we previously said Beatport is the electronic dance music leading online store.Sometimes Beatport releases coupons codes for discounts to save money with your new tracks. Underground artists, disc jockeys, composers, remixers or simply producers must be aware that is a must to have visibility in the leading platform and that's the reason why Beatport promotion can make the difference to reach their targeted audience. With hundreds of thousands of tracks released every year under a label even if they're handpicked by curators to choose the best genre for it the Beatport promotion service must be planned in advanced regarding to their own genre code to reach the specific audience that we need for your label.
Накрученный релиз или как быстро попасть на Битпорт
Безусловно, воспользоваться другим методом раскрутки своего релиза можно и не прибегая к этим сомнительным услугам, можно сделать все самому. Есть различные варианты. Например, можно самому или с помощью своих друзей и родственников попробовать продвинуть свой трек в рейтинге, покупая его. Но это будет достаточно финансово затратное продвижение, да и к тому же потребуется много времени для того, чтобы приблизиться к лидирующим местам. Да и овчинка выделки не будет стоить, т.к. все затраты на это мероприятие никогда не окупятся.
Все, кто пользуются Битпортом, знают, как на самом деле продвигается релиз в Топ-100. Повышение рейтинга релиза — это прямое скачивание материала с сервиса Битпорт, причем из разных стран и, соответственно, с разных ip-адресов.
Но, как правило, чем популярнее стиль, тем выше планка для количества скачиваний. Так, по данным на 15 мая 2014 года, чтобы попасть на более – менее привлекательные места в Топ-100 в стиле Trance нужно было сделать около 100-200 покупок с сайта Битпорт.
К сожалению, в сети интернета сейчас появляется огромное количество сервисов, которые предоставляют услуги нечестной раскрутки и продвижения тех или иных музыкальных материалов и проектов. Но, к счастью, такой метод не всегда работает, и зачастую люди, которые прибегли к услугам данных сервисов, теряют не только деньги и время, но и свою репутацию.
John Summit, Nasser Baker, Dennis Ferrer, James Yuill, Disciples
When Radio 1's Danny Howard brought his Lockdown Linkup series to the world in 2020, he set about teaming up the world's leading dance producers for a collection of collaborations. Among those was 'Whisper', the product of long-time friend of Defected Dennis Ferrer and South London trio Disciples, who made a powerful and perhaps unexpected transatlantic partnership. Quickly catching the attention of Simon Dunmore, 'Whisper' was signed to Defected, who now commission two red-hot remixes from heavy hitters of the house scene. Up first, John Summit takes on the assignment with ease, injecting the record with a hefty dose of club muscle that moves away from the ethereal sound of the original. Up next, Dennis Ferrer protégé Nasser Baker steps up, the New Jersey native going full throttle with an electrifying bassline, spine-tingling synths and a looped whisper that lends to the original's hypnotic quality. Dennis Ferrer & Disciples with James Yuill 'Whisper' (Remixes)1. Whisper (John Summit Extended Remix)2. Whisper (Nasser Baker Extended Remix)Written by James Yuill, Dennis Ferrer, Nathan Duvall, Luke McDermott & Gavin KoolmonProduced by Dennis Ferrer, Nathan Duvall, Luke McDermott & Gavin Koolmon Vocals & Guitar by James YuillKeys by Dennis Ferrer, Nathan Duvall & Gavin KoolmonBass by Gavin KoolmonDrum Programming by Dennis Ferrer & Luke McDermott Recorded at Objektivity Recordings, NJ & Phrased Differently, ShoreditchMixed by Dennis Ferrer & Nasser BakerTrack 1 Remix & Additional Production by John SummitTrack 2 Remix & Additional Production by Nasser BakerMastered by Schnittstelle, DEPublished by Budde Music Publishing, Sfere Music (BMI), Phrased Differently Ltd & Fly-Eye/Sony ATVP&C 2021 Defected Records Limited
2015
Beatport Rallies DJs Worldwide to Help Fight Climate Change With #ListenParis2015 (12/3/15)
Beatport Delivers Video Highlights of the Amsterdam Dance Event (10/28/15)
Beatport Brings the Amsterdam Dance Event Experience to Fans Worldwide (10/12/15)
Beatport & T-Mobile Launch "T-Mobile Backstage" (8/28/15)
Beatport Launches New Genre Pages (7/14/15)
Beatport Launches Embeddable Streaming Music Player, Paying Artists for Each Track Played (6/23/15)
DJs Offer Fans Trips to Iconic Dance Music Events Worldwide via Beatport (5/18/15)
Beatport Introduces Free Mobile Apps with Unlimited Streaming Music (3/26/15)
Beatport Tech House: Electro Sound Pack #53 (2020) MP3 скачать через торрент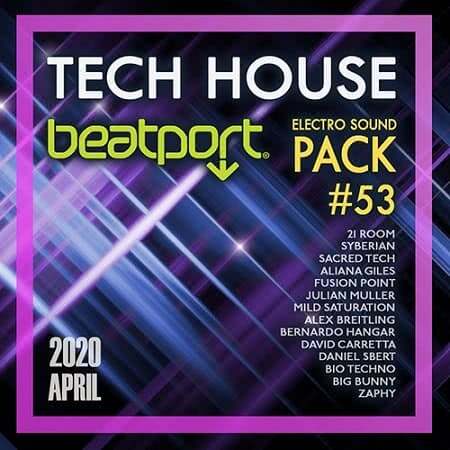 Информация об альбоме / Album info:Название | Title: Beatport Tech House: Electro Sound Pack #53Исполнитель | Executor: VAСтрана | Country: UKГод | Year: 2020Жанр | Genre: Tech HouseКомпозиций | Tracks: 130Продолжительность | Duration: 13:08:57Формат/Кодек | Format/Codec: MP3 Битрейт аудио | Audio bitrate: 320 kbpsРазмер | File size: 1.77 GBИдеальным местом для погружения в подобную музыку видится огромный холл, с приглушённым светом. Было бы идеально наблюдать над собой проекционную сферу, на которой мягко и нежно в режиме плавных переходов возникают то панорамы бескрайнего звёздного неба, то глубины морей и океанов, то сменяющие друг друга времена года, рассветы и закаты.
    +1
Staff Picks
Elles De Graaf,

Jak Aggas,

Raz Nitzan,

Kate Louise Smith,

Re:Locate,

Simon Anthony,

Meredith Bull,

Aurosonic,

Katty Heath,

Denise Rivera,

Frainbreeze,

Elara,

Costa,

Steve Allen,

Manon Polare,

Maxine,

Metta & Glyde,

Kaimo K,

The Blizzard,

Sarah Russell,

Beatsole,

Kimberly Hale,

Eugenio Tokarev,

C-Systems,

Hanna Finsen,

Fenna Day,

Danny Eaton,

Katie Marne,

Mhammed El Alami,

Waltin Jay,

Braulio Stefield,

Sharon Valerona,

Sergiy Akinshin,

Christopher Corrigan,

Chariots,

Bass Sky,

Jan Johnston,

Tycoos,

Deirdre McLaughlin,

Paul Skelton,

Adam Ellis,

Robbie Rosen,

Foínix,

Last Soldier,

Katrin's World,

Andy Elliass,

DARVO,

Sion Rae,

Mike Van Fabio,

Deme3us

$16.99

Neava,

Emma Lock,

Vinny DeGeorge,

Spark7,

Matys,

CJ Stone,

AstroFegs,

Craig B,

Men-D,

Alexis Mixail

$8.99

Astrix,

Freedom Fighters,

Simon Patterson

$1.99

Exclusive

$1.99

Exclusive

Justine Suissa,

Masters & Nickson,

Sean Tyas

$1.29

Dan Stone,

Ferry Tayle

$1.99

Exclusive

Johan Gielen,

Airscape,

The WLT

$1.99

Exclusive

Daniel Skyver,

Kenny Palmer

$1.99

Exclusive

BT,

April Bender,

Spada,

Daniel Wanrooy,

Cari,

Cold Blue,

Giuseppe Ottaviani,

Lucid Blue,

Ronski Speed,

Markus Schulz,

Lovlee,

Richard Durand,

O.B.M Notion,

That Girl,

D72,

John Askew,

Ralphie B,

Jody 6,

A.R.D.I.,

Wach,

Dennis Sheperd,

Roger Shah,

Denis Kenzo,

Adam is a Girl,

Activa,

Shelley Segal,

Last Soldier,

Ramin Arab,

Steve Dekay,

F.G. Noise,

MK8,

Susana,

Ram,

Tales Of Life,

Everlight,

DJ T.H.,

Alexandra Badoi,

Metta & Glyde,

Asteroid,

Philippe El Sisi,

Omar Sherif,

Yelow,

Omnia,

Alex M.O.R.P.H.

$16.99

$2.58
beatport classic
If You Are Looking For "beatport classic" Then Here Are The Pages Which You Can Easily Access To The Pages That You Are Looking For. You Can Easily Input Your Login Details And Access The Account Without Any Issues.
Beatport: DJ & Dance Music, Tracks & Mixes
Download and listen to new, exclusive, electronic dance music and house tracks. Available on mp3 and wav at the world's largest store for DJs.
 preview
Future Classics :: Beatport
Welcome to Beatport. Beatport is the world's largest electronic music store for DJs. Create an Account. Already have an account? Sign in. Invalid login. Please try again. … It isn't easy to predict a classic, but some tunes are undeniable. These picks from Beatport's genre experts are right on the brink of blowing up. $75.52. $102.02. $89 …
 preview
Classic music download – Beatport
Listen to and download Classic music on Beatport. Welcome to Beatport. Beatport is the world's largest electronic music store for DJs
 preview
Classic Music Company artists & music download – Beatport
Scottish producer Austin Ato landed on Classic Music Company with a crash for his debut EP 'Heat' just before the height of lockdown. It drew loud, vocal support from Honey Dijon, Disclosure plus many more and now he's back to deliver his follow-up, 'Linger', a two-track release that shows versatility in his production and song-writing.
 preview
Classic (Dub Mix) by Mama Maestro on Beatport
My Beatport lets you follow your favorite DJs and labels so you can find out when they release new tracks. Log in or create an account today so you never miss a new release. Create an Account. Already have an account? Log In. … Classic Dub Mix …
 preview
Trance Classics music download – Beatport
Listen to and download Trance Classics music on Beatport. Welcome to Beatport. Beatport is the world's largest electronic music store for DJs
 preview
Beatport DJ
Beatport DJ is the world's first web based DJ application built from the ground up for music discovery and playlist management.
 preview
Instantly access a world of music – Beatport LINK
Beatport Charts and Plays. Plays on LINK are not applied to the Beatport Charts for charting purposes. Beatport reserves the right to exclude fraudulent plays, at its own discretion, that it believes are made for the sole purpose of increasing revenue share. Beatport will not share any data that was the basis for such decisions.
 preview
beatport classic Archives – Virtual Clubbing Life
vcl, 13 August 2020 16 August 2020, Video Mix, beatport classic, beatport classics, beatport top 100, Chelina Manuhutu beatport, Chelina
Conclusion:
How to get on Beatport Charts?
This question has an easy answer. It is clearly by growing and audience of fans that will lead you to the charts, not only on beatport but on other stores and streaming platforms. Now that you know how to get on Beatport charts, and realizing yourself that it is mandatory nowadays we recomend taking our Beatport promotion service until you reach that targeted audience of fans so it will help you to reach this faster.
Don't try to buy beatport chart position yourself. We never recommend to buy beatport downloads or anything similar like autobuy beatport as it will be pretty much useless so try to avoid doing such a thing as buying beatport downloads. Avoid trying to Autobuy Beatport services. We deliver real marketing for you so you can buy beatport top 100. 
2020
Beatport Acquires Loopmasters, a Leading Global Provider of Soundpacks and Plugins for Music Producers (12/16/2020)
Beatport Press Release: Absolut and Beatport Reveal the Final Lineup for NYE 2020 – Honey Dijon, Nicole Moudaber, Patrick Topping Join Other Top DJs for #DanceAway2020 as They Each Ring in the New Year Live from Cities Across the Globe (12/10/2020)
Beatport Introduces New Genre – Electro [Classic / Detroit / Modern] (12/8/2020)
Absolut and Beatport Launch NYE 2020 – a 20+ Hour, 15-city, Global New Year's Eve Live Stream Part to #DanceAway2020 (11/24/2020)
Beatport and TribeXR Bring Streaming for DJs to Virtual Reality for the First Time Ever with Beatport LINK Integration (11/23/2020)
Beatport Presents ReConnect x When The Music Stops: #YouAreNotAlone – A Virtual Music Festival Including Music & Educational Segments in Support of Mental Health (11/4/2020)
Beatport and Sentric Launch Powerful New Solution to Transform Electronic Music Publishing (10/27/2020)
Beatport, ADE, Bridges For Music and Pioneer, Join Forces With World's Top DJs, Labels, and Music Industry Executives For a Virtual Cycle Relay Ride From Iconic Music Venues As Part Of An 8-Hour Virtual Fundraiser (10/8/2020)
Serato Makes Major Advancement In DJ Streaming Technology By Launching Beatsource LINK and Beatport LINK in Serato DJ Pro (10/6/2020)
Beatport and Twitch Announce Exclusive Live Streaming Music Programming Partnership (9/17/2020)
Beatport Expands Genre Categories With The Launch Of Dance / Electro Pop (9/15/2020)
Beatport and Loopmasters Announce DJ Harvey Remix Competition With $4000 Prize Package (8/13/2020)
Beatport and Denon DJ Launch Beatport LINK In All Standalone Engine OS Enabled DJ Gear (8/3/2020)
Beatport Reinstates Hard Techno Genre Category (7/28/2020)
Beatport Announces Full Track Playback For LINK Alongside Pro and Pro+ Tier Price Drops (7/10/2020)
Beatport X HE.SHE.THEY: Pride2020 (6/25/2020)
Beatport Launches New Organic House / Downtempo Genre Category (6/23/2020)
Beatport Presents: ReConnect Part 2, A Global Music Event For COVID-19 Relief (4/15/2020)
Beatport Announce ReConnect Drum & Bass (4/30/2020)
Beatport's 34-hour Live Stream Raises Over $180,000 (3/30/2020)
Beatport Presents: ReConnect, A Global Music Event For COVID-19 Relief (3/23/2020)
Beatport to Host Two International Women's Day 2020 Events (3/4/2020)
Beatport Expands Techno Categories (2/19/2020)
Beatport Looks Back at 16 Years of Achievements (1/7/2020)
Top Ten Releases
Exclusive

1

$12.99

2

$2.58

3

$3.87

4

Armin van Buuren,

Maor Levi,

Sander Van Doorn,

Rank 1,

AVIRA,

Paul Oakenfold,

Aly & Fila,

Kazi Jay,

Tom Staar,

Josha Daniel,

Push,

Jorn Van Deynhoven,

Giuseppe Ottaviani,

Susana

$8.99

5

$2.58

6

Genix,

JVMIE,

Zashanell,

Towera Smith,

Northling,

LYCA

$16.99

7

Arielle Maren,

Vintage & Morelli

$16.99

8

Cosmic Gate,

Ilan Bluestone,

Tom Staar,

Beatsole,

Markus Schulz,

Paul Arcane,

AVIRA,

Three 'N One,

Estiva,

Alan Fitzpatrick,

Suncatcher,

Exolight,

Roman Messer,

ReOrder,

DRYM,

Armin van Buuren,

i_o,

Above & Beyond,

Gareth Emery,

Annabel,

Robert Miles,

Tinlicker,

Andrew Rayel,

Olivia Sebastianelli,

Paul van Dyk,

Sue McLaren,

Ferry Corsten,

Trance Unity,

Aly & Fila,

Plumb,

Gid Sedgwick,

Orjan Nilsen,

ARTY,

Audien,

Ellee Duke,

Tritonal,

MaRLo,

HALIENE,

Super8 & Tab,

Colin Smith,

Alex M.O.R.P.H.,

Steve Brian,

Michael Jo,

System F,

Omnia,

Enzo,

Christina Novelli,

Ahmed Helmy,

Cari,

Giuseppe Ottaviani,

Rising Star,

Jurgen Vries,

W&W,

ALPHA 9,

Spencer Brown,

Farius,

Nicky Romero,

Ifimay,

Patrik Humann,

Rodg,

Sarah De Warren,

Kyau & Albert,

STANDERWICK,

Larsson (BE),

Michael Mashkov,

Maor Levi,

Roel,

Emma Hewitt,

Stoneblue,

Protoculture,

Diana Miro,

Elysian,

Roxanne Emery,

SMR LVE,

Jordan Tobias,

Alexis Naylor,

Will Atkinson,

Eximinds,

Kevin Shiah,

Stoneface & Terminal,

Alexander Popov,

M11,

Will Church,

Roger Shah,

George Jema,

Jake Reese,

We Are Loud,

Fatum,

Maxim Lany,

K.I.R.A.,

Cubicore,

Chicane,

Marsh,

Leo Wood,

Kasablanca >,

Yotto,

Ben Böhmer,

Diana Leah,

Scorz,

Billy Hendrix,

Luttrell,

Trance Wax,

Spada,

Cristoph,

Mat Zo,

GQ,

Solarstone,

Genix,

Grum,

Binary Finary,

Shadow Child,

Gouryella,

Neal Scarborough,

Blasterjaxx,

Ben Gold,

DIM3NSION,

Dan Stone,

Ronski Speed,

Arctic Moon,

Jessica Lawrence,

Davey Asprey,

Elevven,

Allen Watts,

Ciaran McAuley,

Signum,

Scott Mac,

Philippe El Sisi,

Omar Sherif,

Johan Gielen,

Nikolauss,

Jordan Suckley,

2Sher,

Assaf,

Heatbeat,

Tempo Giusto,

Chris Schweizer,

Maarten De Jong,

Neelix,

Cuebrick,

David Forbes,

Paul Denton,

Sandro Silva,

Dimitri Vegas & Like Mike,

Sonja,

AXMO

$16.99

Exclusive

9

Mercurial Virus,

The Conductor & The Cowboy

$7.96

10

Somna,

Sean Tyas,

Fatum,

Heatbeat,

Craig Connelly,

Toby Pearce,

Paul Thomas,

Dylhen,

Champagne Drip,

Clockvice,

Aneesh Gera,

Shoby,

Smigonaut,

Wayfloe,

The Private Language,

Tony Awake,

Johnny Frizz,

Grum,

Jeef B,

Omnia,

Steve «Silk» Hurley,

Sean Darin,

Gabriel & Dresden,

86 Crush,

ALPHA 9,

Andy Duguid,

Eddie Murray,

BT,

Matt Fax,

Nation Of One,

Au5,

Mangal Suvarnan,

Iraina Mancini,

Wish I Was,

Lola Rhodes,

April Bender,

Christian Burns,

Emma Hewitt

$16.99
View Top 100 Releases
Beatport Promotion
 It does matter the genre you want to reach in with our music promotion, and we must be clear about this point. The more popular the genre, the more difficult and expensive to enter the top 100 charts. It will need a lot of promotion and effort to get in there. If someone else tells you any other thing, they're simply lying to you.
That is why you will not find prices directly in here, as we will target your audience for your unique release properly and make a study of your track to find out the exact size of this Beatport promo top 100. Expect to be very VERY expensive in this main genres:
HouseTech HouseDeep HouseTechnoBig Room
Yes, they will be VERY expensive, but at the same time, this is the best Beatport promo, this Beatport charts top 100 will give you HUGE exposure because some of them rank up to 20% of the genre chart directly into the Top 100 MAIN Beatport charts. And getting in here is like getting into the hall of fame for DJs, labels, and producers! A very exclusive place reserved just for the" crème de la crème. "
The next Beatport promo in difficulty meaning is the following:
Minimal / Deep TechDrum & BassTranceDance / Nu DiscoMelodic Techno
After these, the rest of the electronic music dance styles are the easiest to rank into with the top 100 Beatport chart promotion. But this doesn't mean that the exposure will be small because (depending on your tune obviously) it's more reliable than you manage to get into the Beatport 10 Chart with our Beatport promotion push. Genres:
2019
Beatportal Launch Announcement (11/29/2019)
Beatport LINK Playlist Announcement (10/2/2019)
Beatport LINK Announces New Partnership: Virtual DJ (9/25/2019)
Beatport and Loopmasters Join Forces In Sounds Partnership (8/1/2019)
Beatport Launches Groundbreaking Offline Locker for DJs in Pioneer DJ's rekordbox Public Beta (7/1/2019)
Beatport LINK to Bring Standalone Streaming and Offline Storage Direct to Denon DJ Hardware (5/21/2019)
Beatport Announces Beatport LINK Subscription Service For DJs (5/14/2019) 
Beatport Launches New 'Bass House' Genre Category (3/21/2019)
Beatport & DJcity Combine Forces To Launch Beatsource (2/13/2019)
Beatport Announces 2019 Beats In School Winners (02/04/2019)
Benny L Scores Beatport's First-Ever Drum & Bass No. 1 (01/17/2019)
Beatport Brings Back Jonas Tempel as Creative Advisor (01/15/2019)
Beatport Reveals Its Best Selling Tracks of 2018 (01/08/2019)
Top Ten Releases
1

Solardo,

Love Regenerator

$2.58

2

Dom Dolla,

SIDEPIECE,

Purple Disco Machine,

KDA,

Gorgon City,

Eats Everything,

Louie Vega,

Aeroplane,

Riva Starr,

MoBlack,

Armonica,

KiNK,

Kei,

Andrés,

Mele,

Mousse T.,

Natasha Diggs,

Henrik Schwarz,

Honey Dijon,

Saint Evo,

Alaia & Gallo,

Sandy Rivera,

Kaidi Tatham,

Jamie 3:26,

The Martinez Brothers,

Marc E. Bassy,

John Summit,

Boys Noize,

Jake Shears,

Dennis Ferrer,

James Yuill,

Disciples,

Vintage Culture,

Elise LeGrow,

Selace,

David Penn,

Ramona Renea,

Inner City,

Idris Elba,

Steffanie Christi'an,

MD X-Spress,

Floorplan,

Phebe Edwards,

Nikki-O,

Annette Bowen,

Marco Faraone,

Greeko,

Junior Jack,

Glory,

Jocelyn Brown,

Mike Dunn,

Robosonic,

Ferreck Dawn,

GUZ (NL),

Deetron,

Ayaba Poetic,

Dunmore Brothers,

Nick Maurer,

Catz 'n Dogz,

Fela Kuti,

The Vision,

Andreya Triana,

Frank Degrees,

Darius Syrossian,

Supernova,

Horse Meat Disco,

Fi McCluskey,

Mr. V,

Dennis Quin,

Dames Brown,

Emmanuel Jal,

Hyenah,

DJ Tira,

Luke Ntombela,

Ruff N'Stuff,

Jovonn,

Native Tribe,

TTAN,

Jaden Thompson,

Proper Villains,

Cakes Da Killa,

Miguel Migs,

Martin Luther,

Copyright,

Song Williamson,

Bontan,

Snips,

Pauline Taylor,

Hadiya George,

NiCe7,

Mikey V,

Gettoblaster,

Servante,

Oscar G,

The Deepshakerz,

Martin Wilson,

D.C. LaRue,

IDA fLO

$16.99

3

Mason,

Sam Divine,

Martin Ikin,

Luke Thompson (UK),

Fer BR,

Alex Garett,

Danny Howard,

The Deepshakerz,

Chaney,

Laura Davie,

GW Harrison,

Tim Baresko,

Mark Knight,

Beverley Knight,

London Community Gospel Choir,

KC Lights,

Leo Stannard,

NERVO,

Biscits,

MITA (BR),

Sandy B,

Illyus & Barrientos,

Daniel De Bourg,

DiVine (NL),

Earth n Days,

Wankelmut,

Anna Leyne,

Nic Fanciulli,

Andrea Oliva,

Sllash & Doppe,

Sante,

Qubiko,

Denis Ago,

Chuck Roberts,

Siege,

Kormak,

Friend Within,

Sinner & James,

Latmun,

Alisha,

Mattei & Omich,

Steff Daxx,

Wally Lopez,

Technasia,

Green Velvet,

Detlef,

Steve Edwards,

Tuff London,

Rene Amesz,

Mihalis Safras,

Nihil Young,

Paige,

Dario D'Attis,

Shyam P,

Siwell,

Umberto Pagliaroli,

Neal Porter,

Ben Muetsch,

Piem,

Yemi Bolatiwa,

Uness,

Ruben Mandolini,

Mat.Joe,

Ben Remember,

Junior Sanchez,

DJ Boris,

Alex Kennon,

Federico Scavo,

Iglesias,

Dave Spoon,

Blueprint (UK),

Martin Badder,

Rafa Barrios,

Ron Carroll,

Jay Vegas,

Baltra,

Seb Zito,

Mizbee,

Daniel Orpi,

Eskuche,

James Hurr,

Tasty Lopez,

Simon Kidzoo,

DEMOU,

Clyde P,

GAWP,

Elijah & Grundy,

Kinnerman,

Dalfie,

Heliotype,

Joseph Edmund,

Ludo Lacoste,

Will Taylor (UK),

AZETE,

Cathy Battistessa,

Denton (UK),

Mike Ivy,

CHESSER,

Late Replies,

RSquared,

Ben Cheel,

Ron Costa,

ANUQRAM,

Type3,

Jimmi Harvey,

Morelia,

E.R.N.E.S.T.O,

Not Not

$8.99

4

$2.58

5

Mousse T.,

Qubiko,

Martin Ikin,

Low Steppa,

Sebb Junior,

Earth n Days,

The Deepshakerz,

Illyus & Barrientos,

Alaia & Gallo,

Alle Farben,

Rich Vom Dorf,

Todd Terry All Stars,

Alex Lo Faro,

Michelle Weeks,

Wankelmut,

Anna Leyne,

Hardrive,

Andrey Exx,

D'Vision,

Juliet Sikora,

Mark Knight,

Milk & Sugar,

Lurine Cato,

Marvin Aloys,

DJ Roland Clark,

PvssyCat,

Federico Scavo,

Killed Kassette,

Thornetta Davis,

Claptone,

Ben Duffy,

Robert Owens,

David Penn,

Meines,

Belle Humble,

Lexer,

Lazarusman,

Neil Amarey,

Momo Khani,

Meindel,

StanLei,

Ian Ludvig,

Darksidevinyl,

Mika Olson,

Ucha,

Tube & Berger,

Ghost Loft,

Leo Gira,

Christian Lena,

D'AL SENIO,

Band & Dos,

Samia,

Mauro Longobardo,

Stylo,

Space Motion,

Kiki Botonaki,

Arco

$16.99

6

Earth n Days,

David Penn,

KPD,

Kevin McKay,

Sebastian Weikum,

Sam Dexter,

Zetbee,

Dennis De Laat,

Milos Pesovic,

Sam Supplier,

Gruuve,

Westend,

Moreno Pezzolato,

Wayne Hernandez,

T.Markakis,

Tasty Lopez,

Alex Gewer,

Phebe Edwards,

Joshwa,

Dillon Nathaniel,

DJ Mark Brickman,

Jess Bays,

Space Motion,

Kashovski,

Craig Knight,

Tom Caruso,

Missy,

Gettoblaster,

Franklyn Watts,

Julian Kid,

DJ Marlon,

KO-BE,

Lee Wilson,

Drive7,

NightFunk,

Elijah & Grundy,

Roog,

Nas Elmes,

Fab Massimo,

Desmond 'DSP' Powell,

Brett Rubin,

Trice Be,

T-Bor,

Jessica Rhodes,

Max Styler,

Brux,

Saad,

Shahin Shantiaei,

DJ Kone & Marc Palacios,

CASSIMM,

Frank'O Moiraghi,

Mallin,

Maxzim,

Maqar,

Lana Domire,

Angelo Ferreri,

Arturo Macchiavelli,

Clementine Douglas,

Menesix,

Trace,

Kieran Fowkes,

Wabe,

J & The Rest,

Ruben Mandolini,

Mateo & Matos,

Liv Campbell,

Travis Emmons

$16.99

7

Boys Noize,

Kelsey Lu,

Rico Nasty,

Ghost Culture,

ABRA (USA),

Jake Shears,

Tommy Cash,

Chilly Gonzales,

Vinson

$8.99

8

Jaded,

RoRo

$2.58

9

$6.45

10

$2.58
View Top 100 Releases
Are you ready to BOOST your career or label ?
Do you want to go to the next level? This Beatport promotion service is a great way to push your career. And it will not require to make one single release into the Beatport top 100 and expect to have a lot of success because it doesn't work like these, or at least not in the 99% of the cases.
You must be ready to start releasing consistently and charting. Remember that, like any other thing that you want to succeed, become an international DJ, producer, or label will involve a lot of effort from your side.
Be prepared to release a minimum of one record a month with the Beatport promotion included, be ready to be active in your social network. Make a plan, especially on Soundcloud and Instagram. Try to upload DJ sets regularly every one or two weeks for free to reach your audience. Because remember Beatport is the professional exposure that will boost your authority in the industry, but the clubbers are crucial in this game DO NOT FORGET!